Geospatial Analysis of Threats
Background and Motivation for the Project
The IUCN Marine Mammal Protected Areas Task Force (MMPATF), together with Tethys Research Institute, Whale and Dolphin Conservation and other partners and sponsors, has been undertaking an exciting project to work with experts around the globe on a region-by-region basis to identify Important Marine Mammal Areas (IMMAs). These are defined as 'discrete portions of habitat, important to marine mammal species, that have the potential to be delineated and managed for conservation.' Five regional assessments have been held to date, with IMMAs identified and published on the IMMA e-Atlas in the Mediterranean, Pacific Islands, North East Indian Ocean and South East Asian Seas, Extended Southern Ocean, and the Western Indian Ocean and Arabian Seas (see map below).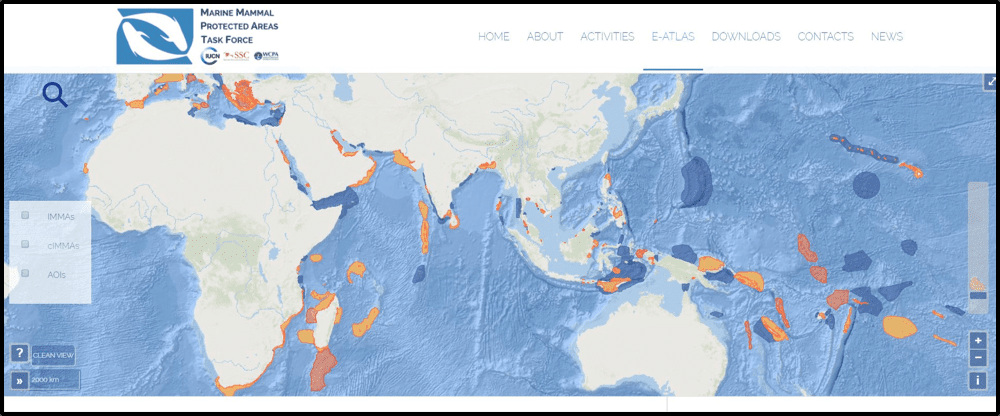 In April 2019, the IUCN MMPA Task Force, IWC and ACCOBAMS jointly hosted a workshop to evaluate how the data and process used to identify Important Marine Mammal Areas (IMMAs) can assist the IWC to systematically  identify areas of high risk for ship strike, a key goal of the Commission's Strategic Plan for addressing this issue. The workshop report generated a number of recommendations, including the following: 'the IWC working with the IUCN MMPA Task Force and the CMS and its daughter agreements, undertake an initial analysis of global IMMAs, overlaid with shipping data, to identify potential high risk areas….'.  WWF saw an opportunity to contribute to the implementation of this recommendation, through collaboration with its global Cetacean Initiative and the WWF Conservation Intelligence team (WWF SIGHT), and their subcontracted partner, Oceanmind.
Target audience
The full document is written in plain English, and comprises maps, tables and graphs depicting levels of vessel traffic in each of the 114 IMMAs identified as of September 2019.   It is intended as a first step to assist NGOs, government, industry and any other stakeholders interested in management of the risks posed by vessel traffic in important marine mammal habitat with an assessment of areas that merit more in depth investigation and management measures.
Three phases of development and output
The project will result in three final products, produced in three stages:
1:  A GIS 'dashboard' with IMMAs as the focal feature. This 'dashboard' will allow users to select various layers representing human activity (e.g. oil and gas concessions, national park/MPA boundaries, ports, etc.) to examine the overlap of human activity and IMMAs at a broad scale. This will be available to WWF users, and hopefully can be made available to users outside WWF as well (to be confirmed with the Conservation Intelligence team).
2: A report with a broad-scale analysis of shipping traffic using AIS data from 1 Sept 2018- 31 Aug 2019 in IMMAs. This was completed in December 2019 and includes a table with statistics of shipping traffic in each of the 114 IMMAs identified as of September 2019. It also includes an table ranking the top 10 IMMAs in terms of risk for ship strike and cetacean bycatch based on the AIS data assessed, as well as shipping 'heat maps' and seasonal charts and tables representing the types of vessel traffic present in each of the 114 IMMAs.
3: A 'deep dive' analysis of two IMMAs that are flagged in the top 10 risk areas for shipping and fishing impacts. These two areas have been chosen based on the species present in the IMMA and their perceived susceptibility to ship strike and bycatch. A more detailed analysis of the overlap of marine mammals and vessels, including a breakdown of the vessel size, speed and category of merchant vessels, as well as a breakdown of the vessel categories and gear types for fishing vessels is expected to shed light on the risks and potential management measures that can be recommended to mitigate these risks.
Timeline for consultations and publication
March -April 2020:  Project partners and Oceanmind work to develop and refine a full draft of the project report including both the broadscale global review and the deep dive case studies.February 2020:  Project partners work with Oceanmind and the stakeholders of two chosen IMMAs to develop the 'deep dive' case studies.
April 2020:  WWF Conservation Intelligence team works with project partners and other stakeholders to determine refine the beta version of the GIS dashboard and determine whether it can be made accessible to partners outside of WWF.
May 2020:  The draft report is presented to the Scientific Committee of the International Whaling Commission for review and feedback.
July 2020:  The report is finalised and made available to the wider scientific and conservation community.